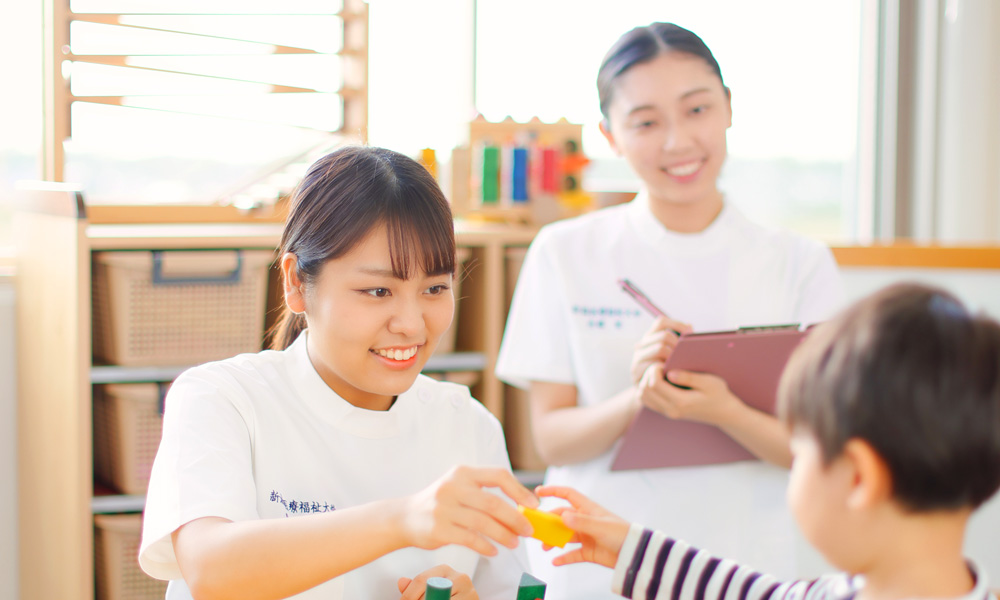 Objectives
The objective of our department is to make students become clinical specialists who can take a leading role in advanced medical care by coping with increasingly complex and diverse needs in the field of speech, language, and hearing sciences. In order to become professionals in this field, students must have fundamental knowledge across diverse fields and a deep insight into speech-language pathology and audiology.
Characteristics of the Curriculum
Our program focuses on acquiring knowledge about the basic and clinical medicine as well as a wide range of special subjects. Our clinical training offers the students opportunities for on-site experiences in which they can practice what they have learned through the coursework. The training is conducted on and off the campus.
Qualifications and Careers
The students who have completed the accredited academic and clinical program can apply for taking the National License Examination for Speech-Language-Hearing Therapists. Upon graduation, they will be able to work in a variety of health care facilities, including rehabilitation hospitals, institutions for hearing impaired children and rehabilitation centers for speech/language disorders.
International Activities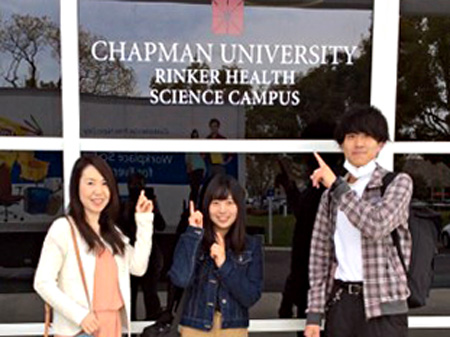 Our international program provides students with opportunities to visit educational institutions, university hospitals, and other clinical facilities in the United States that specialize in speech/language and hearing impairments. This exchange program helps the participants renew and enlarge their perspectives on the profession of speech-language pathology and/or audiology through firsthand observation of the advanced technology in this field.
---
Diploma, Curriculum and Admission Policies (Department of Speech,Language,and Hearing Sciences)
STEPS
Abilities and attitudes of qualified QOL supporters
Diploma Policy
NUHW grants a bachelor's degree to the students who have acquired the following abilities and attributes.
Curriculum Policy
NUHW implements the curriculum as follows in order to help students develop into competent QOL supporters.
Admission Policy
NUHW seeks students who have the following abilities and attributes.
S
Science & Art
Ability to utilize scientific knowledge and skills in academic discipline
Abilities to utilize their advanced scientific knowledge and skills in speech-language-hearing theray
The first year offers the general studies program that covers a wide range of education as well as the introductory courses to special fields. The programs for the second and third year include special subjects, such as phonetics, speech and language disorders, neuropsychology, audiology, and swallowing disorders, that are designed to help students perform adequately in clinical settings. The evaluation will be made based on the results of these special subjects.
Abilities to demonstrate in the admissions the level of knowledge equivalent to a high school graduate in subjects such as English, Japanese, Biology, and others
T
Teamwork
& Leadership
Ability to work together as a team and to show leadership qualities
Abilities to demonstrate leadership as speech-language-hearing therapists for solving clients' problems in interprofessional collaborative practices
For the first year, students are required to take the basic seminars in small groups so that they can start their campus life without difficulty through group activities. For the second year, students take Interprofessional Seminar to practice "active learning" with students from other departments. The goal of this seminar is to promote the ability to deal with specific issues from versatile viewpoints and to improve communication skills with others. The evaluation will be made based on the presentation.
Abilities to communicate with a variety of people in easy-to-understand language
E
Empowerment
Ability to support clients by giving them powers to promote QOL
Attitude to be responsible as speech-language-hearing therapists to promote QOL of clients with respect and support for their diverse backgrounds
The second-year program includes clinical training to help students develop the ability to understand challenges faced by children/adults with speech-language disorders. Special courses are also offered so that students learn how to assist the targeted patients to cope with their social problems. The evaluation will be made based on the performance of clinical training.
Abilities to demonstrate a willingness to understand different ways of thinking by people with speech, language, and/or hearing disorders
P
Problem-solving
Ability to find ways of solving problems and propose better solutions
Abilities to identify problems and provide better solutions for clients therapists based on scientifical assesment of speech-language-hearing therapy
Students are required to take the Research Practicum to develop the following abilities: the ability to find out the causes of problems faced by the patients with speech, language, and/or hearing disabilities; the ability to help the patients cope with social issues brought by their disability. Research Practicum is so designed to accommodate the interest of individual students. The evaluation will be made based on the achievement of a research paper.
Abilities to demonstrate versatile viewpoints in helping people with speech, language, and/or hearing disabilities cope with various issues
S
Self-realization
Attitude towards the fulfillment of his/her potential
Attitude to maintain interests in advanced technology and a wide variety of social issues to contribute as part of their lifelong learning in speech-language-hearing therapy
Between the second and fourth year, students are required to take Clinical Internship annually in order to experience clinical settings firsthand and to help build their perspectives for future commitment as speech-language-hearing therapists. To conclude the study of the special fields, Research Practicum is required. The evaluation will be made based on the achievement of a research paper.
Strong interest in the fields of heath care, medical care, and welfare and who are highly motivated to be a speech-language-hearing therapist
Remarks
Refer to University Regulations, Article 1
Refer to School Manual(Gakusei Binran)
Refer to Guidelines for Applicants(GakuseiBoshu Yohko)
Degree to be awarded
Bachelor of Speech, Language, and Hearing Sciences
Notes: "STEPS" is a acronym formed from the words, which represent "the five requirements" for qualified QOL supporters.
NUHW stands for Niigata University of Health and Welfare.