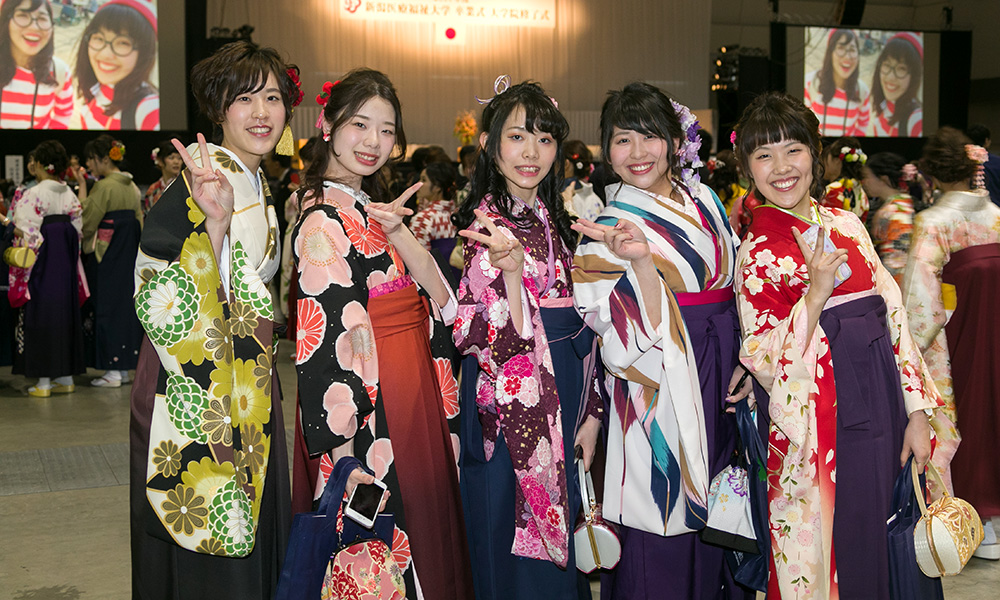 Basic qualifications
Applicants must meet either qualification 1 or 2 below.
Those who have completed or are scheduled to complete a course of education, (in the event of the last school attended being outside of Japan, it must be the equivalent of Japan's 12-years course of school education,) or those deemed to hold an equivalent status by the Japanese Minister of Education, Culture,Sports, Science and Technology.
Those who are designated by the Japanese Minister of Education, Culture, Sports, Science and Technology:
Enrollment Test
To be admitted to Niigata University of Health and Welfare's undergraduate programs, international applicants need to pass one of the tests listed below.
Type of Exam
Exam Format
Exam Period
Written
Interview
Examination by Admission Office
Test
Essay
○
Mid-September
Examination for working people
Essay
○
Mid-November
Examination utilizing the National Center Test for university admissions
Test
-
Mid-January
General Entrance Examination
Test
-
Early February
Please note that most undergraduate classes are conducted in Japanese, including those intended for international students. Accordingly, applicants are expected to have a sufficient mastery of the Japanese language before enrolling.
Fees
| Department | Admission Fee | Annual Tuition Fee and facility charge | First year Total |
| --- | --- | --- | --- |
| PT, OT, ST, AT, CT, CO, EM, HN | ¥350,000 | ¥1,500,000 | ¥1,850,000 |
| RT, NR | ¥300,000 | ¥1,650,000 | ¥1,950,000 |
| HS | ¥250,000 | ¥1,250,000 | ¥1,500,000 |
| SW | ¥250,000 | ¥1,150,000 | ¥1,400,000 |
| HI | ¥280,000 | ¥1,050,000 | ¥1,330,000 |
Examination Fee: Examination utilizing the National Center Test for universityadmissions…¥20,000
Other examinations…¥35,000
PT / Physical Therapy, OT / Occupational Therapy, ST/ Speech, Language, and Hearing Sciences, AT / Prosthetics &Orthotics and Assistive Technology, CT/ Clinical Engineering and Medical Technology, CO/ Orthoptics and Visual Sciences,EM/ Emergency Medical Sciences, HN / Health and Nutrition, RT/ Radiological Technology, NR / Nursing, HS / Health and Sports, SW / Social Welfare,HI / Health Informatics
Tuition exemption for self-supporting (privately financed) international students
Self-supporting (privately financed) international students can be exempted from tuition fees (not including the facility charge), other than mentioned below;
Government-sponsored international student
Those who are dispatched from foreign government
Those who are supported by a private company or a scholarship foundation (amount more than half of the tuition).
Those who are obviously economically advantaged

| Department | Amount of exemption (per year) |
| --- | --- |
| PT, OT, ST, AT, CT, CO, EM, HN | ¥500,000 |
| RT, NR | ¥550,000 |
| HS | ¥425,000 |
| SW | ¥415,000 |
| HI | ¥400,000 |
Admission-related inquiries (international students)
Niigata University of Health and Welfare : International Center
1398 Shimami-cho, Kita-ku, Niigata-shi, Niigata 950-3198, Japan
Tel: +81-25-257-4500
E-mail: kokusai@nuhw.ac.jp