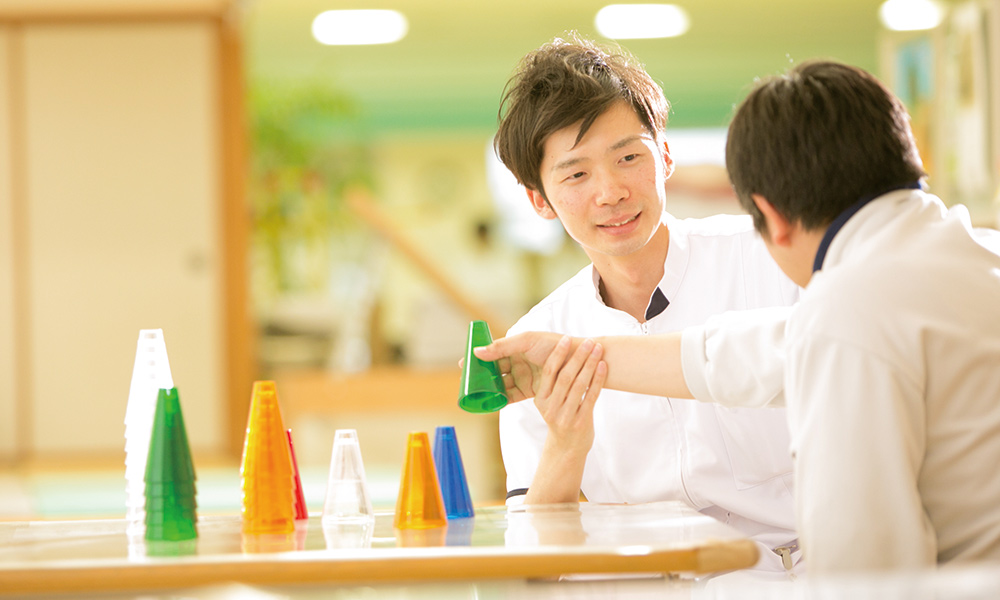 Overview
Occupational therapy is the art and science aiming at the re-construction of the occupational (life-related) functions of people with physical or mental disorders. It is the field in which treatment, guidance and support are performed through the engagement in meaningful and purposeful activities in accordance with the clients' needs. In the Field of Occupational Therapy, we conduct both basic and clinical research for the evaluation and treatment of life dysfunctions caused by physical or mental disorders. In this field, we raise highly skilled professionals capable of conducting evaluation, treatment, guidance, and support not only from the perspectives of physical and mental functions, but also from those of human activities and society. In addition, on the basis of highly specialized knowledge, we educate brilliant researchers capable of contributing to the development of occupational therapy, and competent educators in charge of the training and education of occupational therapists.
Characteristics
In the field of occupational therapy, experts in each area teach students the knowledge and skills to verify effectively and scientifically the life functions of the clients in order to respond to the needs of the real world.
Conducting research in a wide range of specialties
In the field of occupational therapy, both basic research(e.g. kinesiology)and clinical studies(e.g. research on the hand surgery)are conducted.
Education provided by experts in each area
In the field of occupational therapy, the teaching staff plays an active and leading role in each academic society in the fields of hand therapy, study of higher brain functions, study of internal organ disorders, and sensory integration and ADL.
Master's Degree
Master of Rehabilitation Science (M.Rehab.Sc) in Occupational Therapy
Examples of Research Topics
The relationship between the motor imagery ability and the corticospinal excitability during gazing at mirror hand with voluntary movement.
The effects of cathodal transcranial direct current stimulation of the supplementary motor area on the function of anticipatory postural adjustments.
Regulating characteristics of the finger extensor.
Regulating characteristics of the extrinsic muscle and intrinsic muscles of the hand during flexion movement of the finger.
The relationship between the students' anxiety and personality characteristics and their results of fieldwork: before and after study.
Short intra-cortical inhibition and intra-cortical facilitation about the antagonist muscle at agonist muscle contractile.
Characteristic of muscle function as dynamic stabilizer in the elbow joint.
Motor control properties about extensor indicis proprius and extensor digitorum.
Reliability and responsiveness of the Japanese version of utility instruments.
Sedentary time and cognitive impairment in patients using long-term oxygen therapy: A cross-sectional study.
Prediction for fitness to drive in stroke survivor.
Intervention for the performance of car driving in stroke driver/elderly.
Development of evaluation/intervention tool for driving rehabilitation.
Investigation for the relationship between meaningful occupation and health outcomes.
Teaching Staff
Tomonori Nomura / Professor / Ph. D. (Chair)
The effects of non-invasive brain stimulation on cognitive function,Prevention of cognitive decline in older adults.
Mineo Oyama / Professor / Ph. D.
Biomechanical study in neuromuscular function of the upper extremity, Brain research using transcranial magnetic stimulation
Shinichi Noto / Professor / Ph. D.
Neuropsychology, Clinical economics, Intervention for unilateral spatial neglect and apraxia, Assessment of utilities used by the health utilities index and the EQ-5D, Cost-effectiveness analysis of rehabilitation
Rika Imanishi / Professor / Ph. D.
Lower urinary tract rehabilitation for urinary storage symptoms in older adults, Sleep research for insomnia in older adults
Chihiro Fujime / Assistant Professor / Ph. D.
Neurophysiological and biomechanical studies of motor and perceptual functions of the upper limb