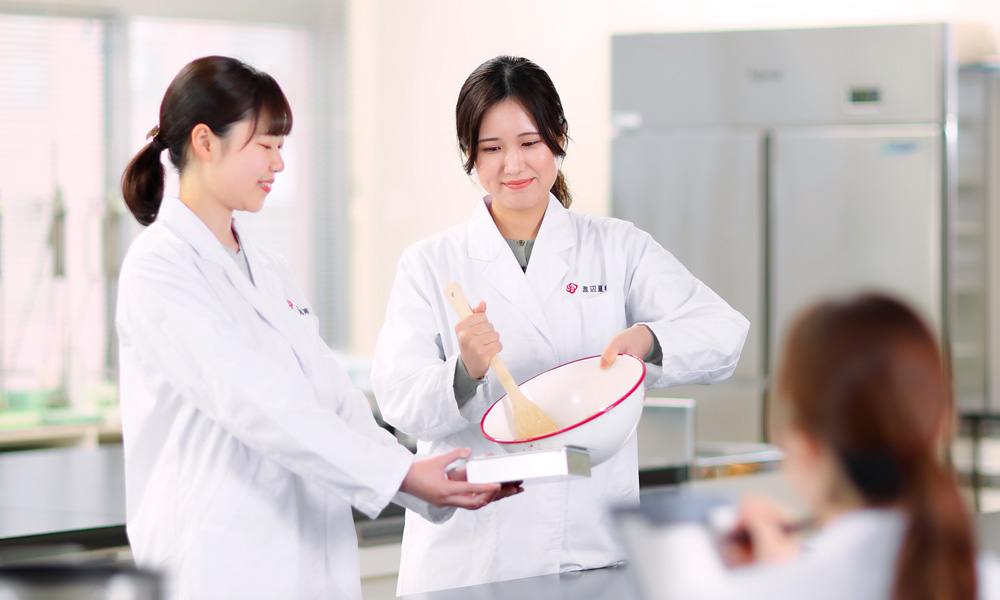 Objectives
The Department of Health and Nutrition trains students to become registered dietitians with comprehensive knowledge of nutrition and basic skills required for diet-management. The department offers programs that make students capable of contributing to rehabilitation of patients, cure of diseases, promotion of health, and improvement of quality of life.
Characteristics of the Curriculum
Most of our academic disciplines comprise compulsory subjects that are studied over a course of four years.
In the first and second year, students are offered subjects such as:
Biochemistry
Basic Medicine
Clinical Medicine
Anatomy and Physiology
Food Science, and
Cookery Science.
In the third and fourth year, more specialized subjects are learned such as:
Nutrition
Public Health Nutrition
Clinical Nutrition
Food Service Management
Nutrition Educational Methodology, and
Research Practicum.
In the second year, students also take Interprofessional Basic Seminar which aims to promote collaboration with peers from other departments. To acquire practical ability, students in the third year are offered both Objective Structured Clinical Examination (OSCE) by simulated patients, and Compulsory Practicum for a total of 10 weeks in such places as hospitals, nursing facilities, administrative agencies, companies, and schools.
Qualifications and Careers
The department expects students to graduate with qualifications as registered dietitians, food specialists, supplement advisers, licensed dietitians, and licensed teachers of nourishment, Class I. Employment opportunities are available at medical institutions (such as hospitals), public health centers (administrative institutions), facilities for health promotion, health facilities for the elderly who need health care, research laboratories, food companies, universities, and elementary and junior high schools.
International Activities
Our international training program provides students who want to learn foreign nutritional care systems in foreign countries with opportunities to visit one of the largest medical centers in the United State (cf. University of Texas Southwestern Medical Center). This program helps students enlarge their perspectives on the profession of nutritional care through firsthand observation of the advanced technology in this field.
Diploma, Curriculum and Admission Policies (Department of Health and Nutrition)
STEPS
Abilities and attitudes of qualified QOL supporters
Diploma Policy
NUHW grants a bachelor's degree to the students who have acquired the following abilities and attributes.
Curriculum Policy
NUHW implements the curriculum as follows in order to help students develop into competent QOL supporters.
Admission Policy
NUHW seeks students who have the following abilities and attributes.
S
Science & Art
Ability to utilize scientific knowledge and skills in academic discipline
Abilities to utilize their advanced scientific knowledge and skills in nutrition
Our department has the basic education subjects, specialized basic subjects and advanced specialized subjects step by step from year to the fourth grade. Furthermore, specialized basic subjects and advanced specialized subjects are arranged with emphasizing lectures, experiments and practical subjects so as to contribute to active learning. The results are evaluated based on the results of all after the subjects.
Basic academic skills of subjects and subjects to be entered in the entrance examination, such as English, Japanese, mathmatics, biology, and chemistry equivalent to high school education
T
Teamwork
& Leadership
Ability to work together as a team and to show leadership qualities
Abilities to demonstrate global leadership to perform professional duties for interprofessional collaborative practices
Our department has First Year Experience aimed at teamwork and leadership abilities with departmental members for 1st year students. For the 2nd year students, we have Interproffesional Seminor I to all university students aimed at cooperation between several job categories. For 4th year students, we have Nutritional Sciences Seminar, which is aimed to have specialized English necessary for administrative dietician. The results of these subjects are evaluated based on the results of the questionnaire after the class.
Abilities to express their opinions logically, tell them easily to others, and abilities to work with others to accomplish things
E
Empowerment
Ability to support clients by giving them powers to promote QOL
Attitude to be responsible for performing professional duties as nutrition specialists to enhance clients' QOL with respect and support for their diverse backgrounds
Our department has Practicum of Health Professions in hospital and welfare facilities in the first year, and Nutritional Practices for clinical training in hospitals, administrative office, schools, and welfare and nursing homes in the third year. We also have Advanced practicum of Health Professions at the indicidual's request annualy in 4th year. The results of each practical training are evaluated using rubrics and others.
Abilities to act actively on learning and extracurricular activities, and attitude to understand the kindness, cooperativeness, and others that are necessary for building a smooth human relationship
P
Problem-solving
Ability to find ways of solving problems and propose better solutions
Abilities to collaborate within their interdisciplinary teams to solve clients' problems based on scientific assesment
Our department has experiments and practical training about nutritional science from 1st year to 4th year. In the 4 the year, we have Research Practicum. The results of these subjects are evaluated based on the report of the experimental practice and the comprehensive performance of Research Practicum in 4 th year.
Abilities to think about things from various perspectives on an event and abilities to put together their opinions
S
Self-realization
Attitude towards the fulfillment of his/her potential
Attitude to maintain interests in issues in health promotion and disease prevention to participate and contribute as part of their lifelong learning
As a part of career education, our department has Practicum of Health Profession in 1st year and Nutritional Science Seminar in 4th year by inviting dietitians.We also place subjects for obtaining various certifications in the 3rd to 4th year. The results of these subjects are evaluated based on the content of the report or the passing rate of qualification exmamination for RDs.
Willingness to contribute from the aspect of "food" as RDs for maintenance and promotion of health, prevention/treatment of diseases, prevention of infirmity and care prevention
Remarks
Refer to University Regulations, Article 1
Refer to School Manual(Gakusei Binran)
Refer to Guidelines for Applicants(GakuseiBoshu Yohko)
Degree to be awarded
Bachelor of Health and Nutrition
Notes: "STEPS" is a acronym formed from the words, which represent "the five requirements" for qualified QOL supporters.
NUHW stands for Niigata University of Health and Welfare.