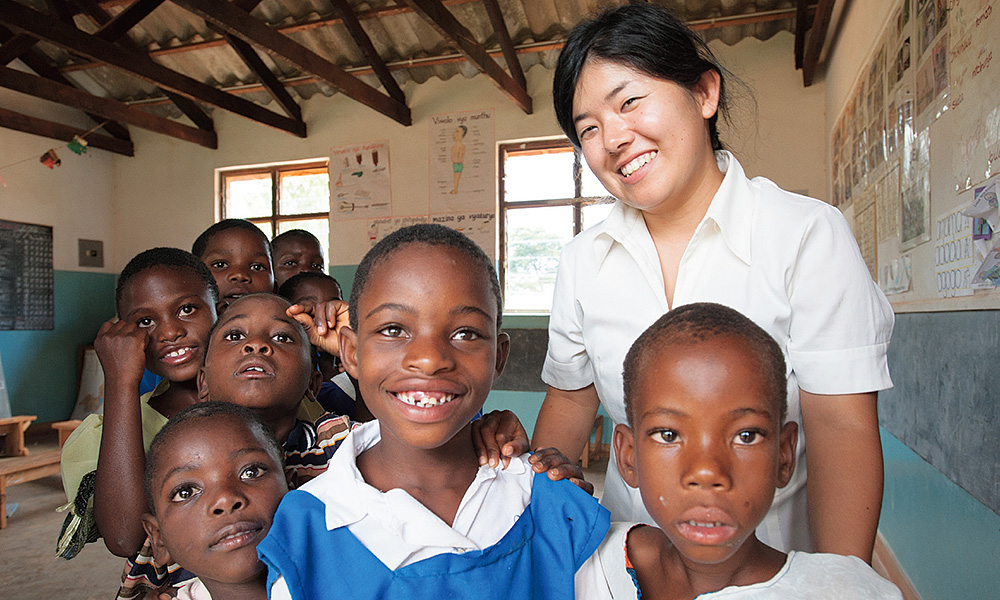 Photo by Kenshiro Imamura/JICA
Education Research Program
This program is intended for those who want to 1) study scientific subjects of their own interest, 2) have higher professional knowledge, 3) become leading professionals or educators in their fields, and 4) become researchers in the future. We support our students so that they can not only obtain higher professional knowledge but also master theories and skills needed for research and presentations. They are expected to complete a master's thesis under the guidance of a supervisor.
Advanced Specialized Professional Program
Clinical Nurse Specialist (Cancer Nursing) Course
The Clinical Nurse Specialist (CNS) is a qualification awarded to nurses who have passed the Clinical Nurse Specialist Qualification review conducted by the Japanese Nursing Association. To obtain this qualification it is necessary to complete a master's program at a nursing graduate school granted by the Japan Association of Nursing Programs in Universities. The cancer nursing curriculum of the university satisfies this condition.
Clinical Manual Therapy Course
The Clinical Manual Therapy Course includes clinical practice and is more practical than the Education Research Program which concentrates on research. The goal of this course is to acquire advanced knowledge and skills useful in clinical practices, which has been a long-standing need of front-line physiotherapists.
Acute Phase Physical Therapy Course
The goal of Acute Phase Physical Therapy Course is to acquire advanced knowledge and skills in acute phase physical therapy and in clinical research, which has been a long-standing need from front-line physical therapists working in acute phase.
Clinical Nutrition Specialist Course
Emphasis has recently been placed on the importance of nutrition support team (NST) in the nutritional care and management of patients. The dieticians in NST require comprehensive knowledge about clinical nutrition and advanced skills in nutritional treatment. The goal of this program is to provide these knowledge and skills to professionally trained registered dieticians who may be employed at hospitals or nursing care facilities.
Certified Social Worker Course
The purpose of this course is to provide counseling and assistance. By drawing on their highly specialized knowledge and skills, the workers are able to provide personalized support, coordinate with experts in other fields, and enhance community welfare in dealing with welfare issues in many areas. Our graduate students can earn credits (common core courses and specialized courses in welfare for the elderly) to become certified social workers by taking certain courses in the graduate program in social work.
Collaborating Program with the Japan International Cooperation Agency
Purpose of the program
The graduate students who take this program can work in their assigned foreign country as a member of the Japan Overseas Cooperation Volunteers (JOCV). The purpose of this program is to enhance the student's qualities and skills as a valuable human asset for international health cooperation through practical experiences in a foreign country.
Characteristics
The students can receive instructions from the graduate course teachers while staying in an assigned country and obtain the master's degree by summarizing their experiences and reflections into a research paper.
They can improve skills for effective international health cooperation before/after starting their new posts as members of JOCV by through practical exercises focused on health problems in developing countries.
They can refer to the experiences of others through the network of people related to the graduate course and JOCV when they need to consider their local duties and future careers.
Note:The applicants need to have Japanese nationality and pass the screening test by JICA.