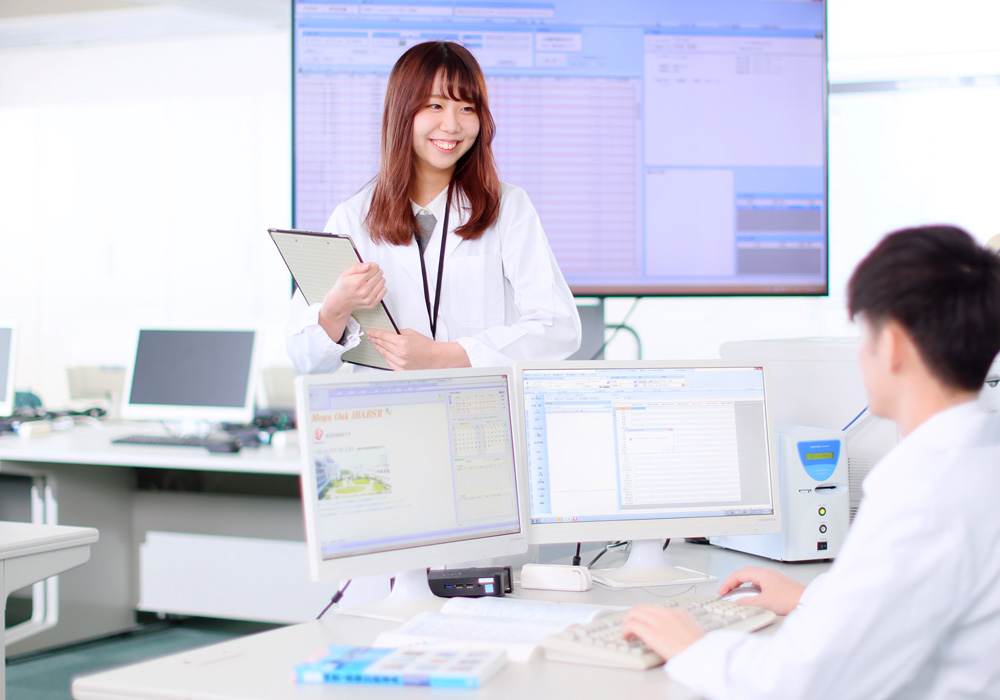 Objectives
Two types of medical qualifications are mainly aimed for:
1. Health Information Manger
The main duty of health information managers(HIM) in hospitals/clinics is to manage and secure patient records. They work with computers to comply with federal mandates for electronic storage of patient information. HIMs must make sure not only that these records are accurate and complete because they may be used for research or quality management but also must that databases are secure and can only be accessed by authorized personnel.
2. Medical clerk
Medical services are essential for the well-being and happiness of people. Presently, there are several issues in the field of medical services in Japan: a shortage of medical doctors, too heavy a burden on them, drastic changes in the environment of medical services, and problems surrounding medical insurance. To supply quality medical services, it is necessary to reduce the burden on administrative work on medical doctors and let them devote themselves to medical diagnosis and treatment. Under these circumstances, the profession of "Medical Clerk" such as Medical/Doctor's Clerk is being highlighted. Medical clerks have sufficient knowledge of health, welfare and medical information technology, so that they can not only assist medical doctors greatly but also give patients dependable services with a profound knowledge of medicine-related sciences. Furthermore, they are able to alleviate the burden on medical doctors by doing various office works. This department aims to train our students to become such highly skilled medical clerks.
Characteristic of the Curriculum
The Department of Health Informatics has subjects related to medical clerks such as information technology on medical services and social work and hospital management. One of the distinctive features of the curriculum is the variety of subjects in inter-related areas. Students can select subjects according to their own interests.
Qualifications
We aim for the qualifications for medical clerks, doctor's clerks, Health information managers, Healthcare Information Technologists, and Information Technology Specialists.
International Activities
The department tries to collaborate with foreign universities and institutes for mutual development in education and research. In fact, the department has been in educational and research cooperation with Far Eastern State Medical University in Russia since 2017 (short-term study abroad, conference presentations, etc.). In addition, the department has an international exchange agreement with Fooyin University in Taiwan since 2019.
Diploma, Curriculum and Admission Policies (Department of Health Informatics)
STEPS
Abilities and attitudes of qualified QOL supporters
Diploma Policy
NUHW grants a bachelor's degree to the students who have acquired the following abilities and attributes.
Curriculum Policy
NUHW implements the curriculum as follows in order to help students develop into competent QOL supporters.
Admission Policy
NUHW seeks students who have the following abilities and attributes.
S
Science & Art
Ability to utilize scientific knowledge and skills in academic discipline
Abilities to utilize their specialized knowledge and skills in medicine, management and information technology
Management and information technology is arranged to put on necessary technology and the education. The learning outcome will be evaluated by the qualifying examination acceptance rate.
Basic academic skills and learning abilities of subjects being on the entrance examination, such as English, Japanese, and Mathematics, at the high school graduation level
T
Teamwork
& Leadership
Ability to work together as a team and to show leadership qualities
Abilities to work together in a group and to demonstrate leadership in interprofessional collaborative practices
The class of the career design of the seminar form are arranged to learn the technology which cooperates while communicating with the job category of the object and the other ones. The learning outcome will be evaluated by results of a professional basic subject.
Abilities to understand the story of others and being able to convey ideas in an easily understandable
E
Empowerment
Ability to support clients by giving them powers to promote QOL
Abilities to support clients as specialists based on a sense of responsibility and commitment
Practice subjects are arranged to plow the ability to play an active part in the medical welfare and the information technorogy field. The learning outcome will be evaluated by results of a practice subject of a professional specialty.
Abilities to grasp others' opinions and an attitude to willingly act proactively
P
Problem-solving
Ability to find ways of solving problems and propose better solutions
Abilities to solve problems based on specialised knowledge and professional judgement in the discipline of medical information management field at workplace and community
Professional specialty subjects for the management and the information technorogy are arranged. The learning outcome will be evaluated by results of a professional specialty subject.
Strong interests in healthcare, management, and information technology, and willingness to get a qualification and engage in professions related field
S
Self-realization
Attitude towards the fulfillment of his/her potential
Attitude to maintain interests in global issues and progress in medical information technology, and to participate and contribute as part of their lifelong learning
Our curriculum provides specialised subjects of the management and the information technorogy to put on the mental attitude and to keep problem consciousness. The learning outcome will be evaluated by a research practicum.
Strong interests in healthcare, management, and information technology, and willingness to get a qualification and engage in professions related field
Remarks
Refer to University Regulations, Article 1
Refer to School Manual(Gakusei Binran)
Refer to Guidelines for Applicants(GakuseiBoshu Yohko)
Degree to be awarded
Bachelor of Health Informatics
Notes: "STEPS" is a acronym formed from the words, which represent "the five requirements" for qualified QOL supporters.
NUHW stands for Niigata University of Health and Welfare.