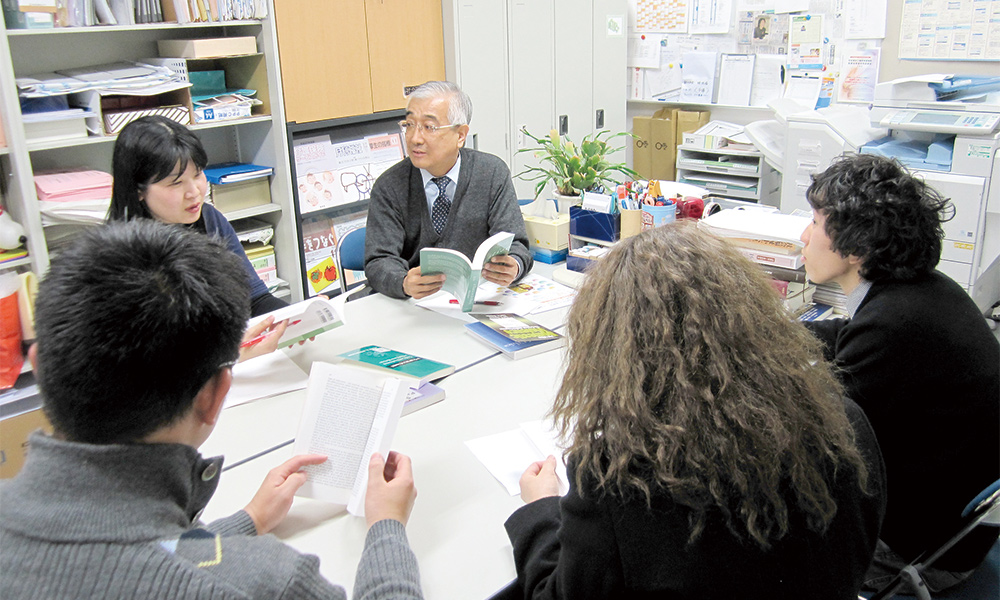 Overview
In the Field of Policies Planning and Administration for Health and Welfare, we conduct interdisciplinary research on the development and implementation of health care and welfare policies at the local and national levels. By providing the students with necessary skills, we educate government administrators with advanced skills as policy-makers, who are competent in project development, its implementation and evaluation. We also train administrators with managerial abilities in charge of the administrative operations of healthcare and welfare institutions.
Characteristics
Diversified teaching staff and multidisciplinary education/research system

In our field, the staff with specialized expertise provides education and works on research integrating theory and practice in various sciences.
Respect for individuality and interactive communication

Classes are given not as a one-sided lecture, but as an opportunity for active discussions and Q & A's between graduate students and teachers, or among graduate students themselves.
Selection of career options using highly-specialized knowledge

In choosing their careers, many graduate students make use of the knowledge and the research results that obtained in this specialty. As a result, they have a good chance of finding a suitable job.
Master's Degree
Master of Social Work (M.S.W.)
Examples of Research Topics
Validation study of the civilian participation in community-based welfare
Establishment of a public assistance system in Japan
Formation of new communities in the super aging society
Regionalization of health and welfare in group retirement homes for the elderly with dementia
Medical problems for foreign citizens staying illegally in the country, and "advocacy networks"
Discussions on at-home nursing care: A study based on the present conditions of home-help services
For the way of care management to support life in the community
A study on the actual condition of the orphanage
Current situations and problems of municipal community-based welfare plan
Research on regional support in maternal and child living support facility
Current status of teleworking by social workers and possibility of introduction
Possibility of working for students with developmental disabilities -Based on the perspective of training certified care workers-
Teaching Staff
Kimiyo Terada / Professor / Ph. D. (Chair)
International social work, Welfare sociology, Child welfare and family services
Toshifumi Watanabe / Professor / Ph. D.
Social work, Community-based welfare
Hiroshi Sato / Professor / Bachelor of Sociology
Social work with disabled people
Shigeru Aoki / Professor / Master of Social Work
Social work, Community-based welfare, Volunteer learning
Akio Maruta / Professor / Master of Regional Policy
Regional welfare, School social work, Comprehensive community support
Chikafusa Aoyagi / Professor / Bachelor of Economics
Social security policies focusing on pension and nursing care
Yutaka Watanabe / Associate Professor / Master of Social Service Management
Community-based welfare