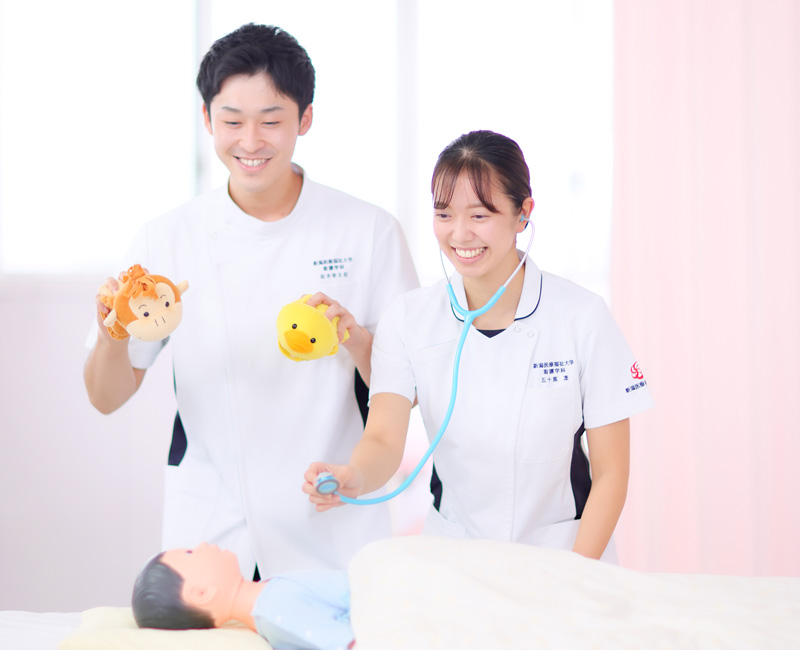 Objectives
Our department aims to nurture nursing professionals who are capable of thinking independently and practicing on their own through a special simulation training program. Furthermore, students are encouraged to actively contribute to medical and health service teams while collaborating with various specialists in all areas.
Characteristics of the Curriculum
Our curriculum enables students to selectively acquire various certifications. This integrated curriculum ensures that all students will acquire the necessary qualifications to take national examinations for registered nurses so that they make a broad contribution to the nursing profession. Additionally, students may take elective courses for public health nurses, midwives and school nurse. From the first year of studies, we adopt the simulation training program which reproduces various clinical situations. Our integrated and progressive nursing courses encourage students to study and synthesize knowledge and obtain technological skills in a manner similar to what would be demanded in actual clinical settings.
Qualifications and Careers
Students can acquire necessary qualifications to take the national examinations for registered nurses. In addition, those who take elective courses can gain qualifications for the national examination for public health nurses and/or midwives. License of School Nurse, Class I, is also obtainable. Most graduates work as registered nurses or midwives at university hospitals, general hospitals, or clinics. Some graduates advance to schools of midwifery. The placement rate for job applicants is 100%.
International Activities
The nursing department annually conducts three short-term training sessions abroad:
Observational study tour at the pediatric specialty hospital, hospice, the United States. (2011- present)
Exchange program with the University of East Anglia (UEA), UK. (2011- present)
Exchange program with the Hong Bang International University, Vietnam. (2016- present)
Learning the realities of medical care in foreign cultures leaves a great impact on the participants. In line with the agreement of international exchange programs, we have begun exchanging staff and students and launched joint research on nursing.
Diploma, Curriculum and Admission Policies (Department of Nursing)
STEPS
Abilities and attitudes of qualified QOL supporters
Diploma Policy
NUHW grants a bachelor's degree to the students who have acquired the following abilities and attributes.
Curriculum Policy
NUHW implements the curriculum as follows in order to help students develop into competent QOL supporters.
Admission Policy
NUHW seeks students who have the following abilities and attributes.
S
Science & Art
Ability to utilize scientific knowledge and skills in academic discipline
Abilities to utilize their specialised knowledge and skills in nursing practice
Our curriculum provides liberal arts and specialized subjects on health, medicine and welfare. Specifically, the specialized subjects are provided corresponding to the school year progresses. Simulation trainings are progressively conducted from first to forth school year with aim to obtain required expertise on nursing practice. The learning outcomes will be evaluated by the grade of all taken credits.
Basic knowledge equivalent for High school graduation in particular English, Japanese and required subjects by entrance examination
T
Teamwork
& Leadership
Ability to work together as a team and to show leadership qualities
Abilities to work together in a group and to demonstrate leadership in interprofessional collaborative practices
Our curriculum provides interprofessional education implementing throughout the university, simulated trainings for interprofessional education, group learnings, seminars on nursing techniques, and clinical nursing practices in various fields. The learning outcomes will be evaluated by the performance in clinical nursing trainings.
Abilities to express their own opinion as well as to carry out a duty in cooperation with colleagues
E
Empowerment
Ability to support clients by giving them powers to promote QOL
Abilities to support clients as specialists in nursing based on a sense of responsibility and commitment
In order for students to acquire skills for advanced nursing practice, the curriculum provides clinical training which offer opportunities to encounter various clients in health care facilities corresponding to the student's progress. Simulated trainings which induce to respect diversity of client's life and their values are conducted. Nursing practice theories and Integrative nursing practice are implemented with the aim of learning from the aspects on community based integrated care which joint between nursing practice and home health care. The learning outcomes will be evaluated by the performance in clinical nursing trainings.
Attitude to be careful of human relationship as well as to deepen mutual understanding.
P
Problem-solving
Ability to find ways of solving problems and propose better solutions
Abilities to solve clients' problems based on specialised knowledge and scientific assesment
Our curriculum provides Research methodology in nursing and Research practicum. Further, clinical nursing trainings by each specialized field are conducted with aim of ability acquisition for problem solving of individual client. The curriculum provides lectures with active learning methods which induce to think and problem solve by students, their own. The learning outcomes will be evaluated by the performance in clinical nursing trainings and Research practicum.
Abilities to inquire a certain phenomenon and consider things from various aspects, further get their consideration in shape
S
Self-realization
Attitude towards the fulfillment of his/her potential
Attitude to maintain interests in wide-ranging issues, and to participate and contribute as part of their lifelong learning
Our curriculum provides courses for registered nurses, public health nurses, midwives and license of School Nurse Type I as well as International nursing, Disaster nursing and specialized subjects elective courses are conducted. The learning outcomes will be evaluated by career path of graduates.
Motivation and willingness to engage nursing science
Remarks
Refer to University Regulations, Article 1
Refer to School Manual(Gakusei Binran)
Refer to Guidelines for Applicants(GakuseiBoshu Yohko)
Degree to be awarded
Bachelor of Nursing
Notes: "STEPS" is a acronym formed from the words, which represent "the five requirements" for qualified QOL supporters.
NUHW stands for Niigata University of Health and Welfare.